camcorders
Canon 5D Mark III DSLR Camera Review
The Canon 5D Mark III is a DSLR camera that has the ability to appeal to filmmakers and photographers alike.
$2,499.00 at Amazon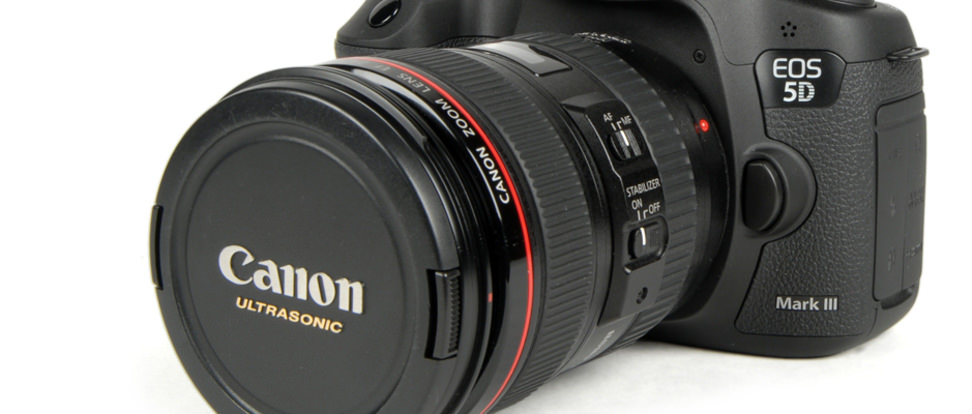 Introduction
The Canon 5D Mark III is a DSLR camera that has the ability to appeal to filmmakers just as much as it does photographers. The camera took stellar photos in our still image tests, but it also excelled in our video labs. We're not joking when we say its the best video-capable DSLR we've ever reviewed. Of course, with an estimated retail price of $3499 (body only), the Canon EOS 5D Mark III costs roughly the same as a low-end professional camcorder.
Motion & Sharpness
We found that the Canon 5D Mark III had no problems rendering motion effectively in either of its compression modes (IPB or ALL-I) with minimal noise and little artifacting both ways. The 24p video in our testing did not greatly differ from the 30p to our eyes, though the 24p recording did retain a little more of a filmic "flicker" outside of our controlled lab settings. We noticed some ghosting in our motion example, especially around the monochrome pinwheel, but it's a common effect that we are used to seeing on DSLRs.
See our full motion performance review, including video clips.
The Canon 5D Mark III is not substantially sharper than its predecessor, the Mark II. Shooting a standard sharpness chart, we found that the Mark III was able to render, at best, around 700 line pairs per picture height (LPPH) of sharpness horizontally, and 750 vertically with its IPB compression (utilizing a 50mm f/1.8 lens at f/7.1, the kit lens was less sharp, getting around 600 LPPH horizontally and 750 vertically). ALL-I compression actually looked a little bit softer here, though both types lost most of their sharpness when the camera was moving.
Read our full sharpness performance review.
Low Light
With ISO set to automatic, the 5D Mark III was able to render a visible image (defined as a white section in the center of the frame hitting 50 IRE on a waveform monitor) with just 6 lux of light. At this point, the camera was forced into using its maximum ISO for video recording, which is 12800 (6400 is the standard max ISO, but that can be pushed by activating ISO extension for stills).
Read our full low light sensitivity performance review.
Comparable Products
Before you buy the Canon EOS 5D Mark III, take a look at these other interchangeable lens cameras.
Conclusion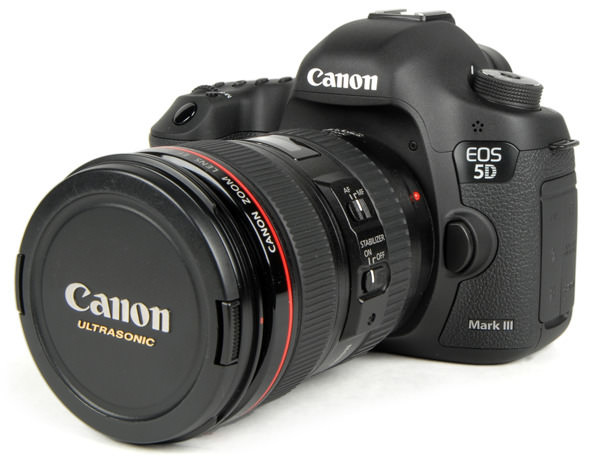 With the 5D Mark III, Canon addressed many of the issues that video users complained about with the previous 5D Mark II. The camera is loaded with manual video controls, has a whole slew of different compression and frame rate options, and it has significantly improved low light performance over its predecessor. Canon also increased the recording limit on the camera to just under 30 minutes per clip, so you should have less of a problem capturing those long takes in single clip.
But not all is well with the Mark III's video performance and capabilities. Being a true DSLR, the camera can't autofocus smoothly during video recording. That's a luxury you only get with mirrorless cameras and camcorders. Performing an autofocus with the Mark III requires the camera to alter the exposure for a moment as the focus sensor calibrates. It doesn't look pretty and it certainly isn't smooth, but it's a problem on all true DLSR cameras that shoot video. Fortunately, the Mark III's kit lens has an excellent focus ring, so pulling focus manually can look fantastic (see the sample videos above for some examples).
Despite its lack of autofocus, the 5D Mark III is the best DSLR for video we've reviewed so far. Its videos look fluid and cinematic, and the camera offers far more control over depth of field than any consumer camcorder on the market. A pro camcorder will get you more dedicated video controls and options (as well as stronger autofocus), but the 5D Mark III gives you the option of an interchangeable lens system for under $3500 bucks. It's not the solution for everyone, and if you're used to shooting with an ENG-type camcorder or a handheld pro model it may be hard to switch over to the Mark III, but it is a very good camera for shooting video—and it can take darn good photos as well.
To read our full conclusions for the Canon EOS 5D Mark III including analysis of the camera's video handling and audio options, plus see sample videos and photos, visit the full review at DigitalCameraInfo.com.
Our editors review and recommend products to help you buy the stuff you need. If you make a purchase by clicking one of our links, we may earn a small share of the revenue. Our picks and opinions are independent from any business incentives.