Sony Handycam HDR-CX760V
This flagship Handycam delivers crisp Full HD images in bright light, great low light capabilities, and fluid motion.
Sony Handycam HDR-CX760 Camcorder Review
$1,499.00
Low Light Sensitivity
Sensitivity was probably the biggest area of improvement for the HDR-CX760V this year (as compared to last year's CX700V). Without using any zoom, the camcorder needed just six lux of light to record an image deemed bright enough for broadcast. That's a pretty low light level, so you should be able to film decent images in a dimly-lit bar or bedroom with this camcorder. Using zoom, the CX760V needs more light to record the same kind of images, only because using zoom closes down the camcorder's aperture a bit. In our second sensitivity test, where we frame our test chart using zoom, the camcorder needed 17 lux of light to record a decently-bright image. More on how we test low light sensitivity.
While these results are a strong improvement over last year, they're not quite as good as the results we saw from the Canon HF G10. The Panasonic HC-X900M also had a bit of an edge over the Sony, but not by much. But the Sony's overall low light numbers (including color and noise) were also quite good, and these three tests combined to put forth a very good low light performance.
Low Light Noise
The Sony HDR-CX760V produced images in low light that were mostly noise free. In our low light test we shoot using 60 lux of light, which is about what you'd get from a bedroom or living room with a single lamp turned on. With this kind of light, the noise levels came to 0.6%, and anything under 1.0% in this test is very good. Using even less light, the CX760V will start to produce a noisier image, but that's what we see from most consumer camcorders. The benefit of the Sony, however, is that it has many low light video options. There's the infrared Nightshot that lets you shoot in near-total darkness, there's a video light (with two intensity settings, and there's a low lux mode that uses a slow shutter and high gain to boost the light levels. More on how we test low light noise.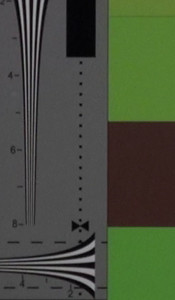 Low Light Color
Color accuracy took a bit of a dip in low light for the Sony CX760V, but the video images still looked quite good. The camcorder's color error measured at 4.48 and the saturation level was a cool 79%. These numbers, particularly the saturation level, are down from the CX760V's bright light color results, but they're in the same ballpark as the rest of the high-end models we compared it to. More on how we test low light color.
Sections