Sony Bloggie Touch MHS-TS10
The Bloggie Touch MHS-TS10 ($179 MSRP) is Sony's newest ultracompact camcorder, and its name should give you a hint about its key feature—a 3-inch touchscreen LCD.
Sony Bloggie Touch MHS-TS10 Camcorder Review
Handling
Touchscreens on camcorders isn't a new technology, but the way Sony implements the feature on the Bloggie Touch is fairly unique. As we discussed above, the auto rotate feature of the LCD can be confusing at first—and we wish Sony would include an option for turning it off—but it does allow you to use the entire LCD during recording, which we think is great. As for the touchscreen itself, sometimes we found it to be unresponsive, but it wasn't any worse than the touchscreens we're used to seeing on consumer camcorders.
Aesthetically, the Bloggie Touch is a stylish ultracompact camcorder that feels solid and durable in your hand. The camcorder can stand on its own, a rarity for ultracompact models, but it doesn't have the best balance due to its ultra-thin design. We recommend holding the Bloggie Touch MHS-TS10 horizontally during video recording if possible. Trust us, you're videos will look much better if you do things this way. When you watch them on an HDTV or upload them to YouTube, your videos will retain that great widescreen format that fills the whole screen. Shooting vertically will result in skinny, tall videos with big black bars on both sides (unless you view the clips on the camcorder itself).
Holding the Bloggie Touch horizontally may feel awkward, but it is similar to using a very thin digital camera. The shutter and power button is even located on the top there, so we think Sony had this design in mind when they made the Bloggie Touch. Strangely, the camcorder's main menu will only list vertically (it doesn't automatically "rotate" when you turn the camcorder on its side), but that's not too much of an issue.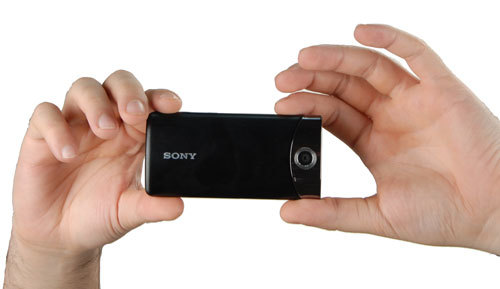 The Bloggie Touch is a bit slippery and doesn't have much of a grip, so you should probably connect the wrist strap to its base if you can. We like the design of the camcorder's built-in USB arm as well, and we found it to be more durable than the switch-release system you see on Flip camcorders.
Portability
With the Bloggie Touch, Sony decided to mimic the simple, streamline design that Flip has utilized on its ultracompact camcorders for a few years now. The Touch has no memory card slot, no removable battery, and only has three physical buttons. All these factors enable the Bloggie Touch to be a whole lot lighter and thinner than Sony's previous Bloggie MHS-CM5, although the CM5 did have a much better lens with a 5x optical zoom (which added to the camcorder's weight and bulk).
Anyway, the point is, the Bloggie Touch is thin, compact, and a tad smaller than an iPhone or iPod Touch. The fact that it only contains 4GB of internal memory (or 8GB on the more expensive model, the MHS-TS20) is a bit disappointing as far as portability is concerned. If you shoot a lot of video you'll definitely need to dump your clips off to a computer or hard drive frequently if you don't want to worry about running out of recording space. This is where the versatility of a memory card slot gives you a strong advantage.
Battery Life
The MHS-TS10 Bloggie Touch lasted for 113 minutes in our battery life test, which is a strong showing for a camcorder of its class. However, before we give lots of praise to the camcorder's battery pack, we must reiterate that the Bloggie Touch has an internal, non-removable battery. Whether or not this is a downside depends on how you'd like to use your camcorder. Having an internal battery does make the Bloggie Touch simpler, and it eliminates one more component that can't get lost or damaged. But, it also means you can't purchase backup battery packs to insert when your first one dies. For comparison, the Kodak Playsport and the Sony Bloggie MHS-CM5 both have removable battery packs, while the Flip SlideHD has an internal battery like the Bloggie Touch. More on how we test battery life.
LCD
The Sony Bloggie Touch has the best LCD we've seen on an ultracompact camcorder so far. At three inches in size, the screen is as big as what you get on the Flip SlideHD, but it has a far better resolution and its touchscreen design is much more precise. What really bugged us about the LCD on the SlideHD was the fact that only a fraction of the large screen was usable during video recording (2/3 of the screen was taken up by touchscreen buttons). The Bloggie Touch, however, makes use of the entire screen in both playback and record mode—and it lets your video fill the screen whether you shoot vertically or horizontally with the camcorder.
Some people may be confused by the rotation detection on the LCD with the Bloggie Touch, and we must admit, it can be a bit strange. When you shoot video holding the camcorder horizontally, the screen displays a frame as such with a 16:9 display (normal for a camcorder). When you hold the device vertically, however, the image also fills the screen, which means your recorded video comes out having huge black bars on the left and right when you view it on a computer or television. Yes, it is awkward, yes it will confuse beginners, but we think this concept should make sense to people after a few uses... and they'll begin to hold the Bloggie Touch in the manner they feel is most suitable to their shooting needs.
Display Size
Display Resolution
Touch Screen
Viewfinder
Stabilization
The Bloggie Touch is equipped with an image stabilization system, but the feature cannot be turned off manually. This means we were unable to test it using our shake-rig setup (if we can't turn stabilization off, then there's no way to see how much the camcorder "improves" the shake when the feature is engaged). From what we can tell, the stabilization uses a digital technology. More on how we test stabilization.
Sections