JVC Everio GZ-VX700
The VX700 offers some of the coolest WiFi capabilities we've seen.
JVC Everio GZ-VX700 Camcorder Review
Handling
The GZ-VX700 is small and handy, and it's even fairly comfortable to hold despite its lack of a contoured shape. The strap on the camcorder is terrible and thin, but the VX700 is light enough that you don't always need to use the strap to hold it properly. Still, we wish the strap was a bit more comfortable on the back of our hand. The overall design of the camcorder's body also feels very cheap and you can tell there were areas where JVC cut costs on design and construction. The battery compartment is covered by a thin piece of removable (therefore losable) piece of plastic, the port cover is strangely difficult to get open, and the lens is equipped with a manual (rather than automatic) lens cover switch.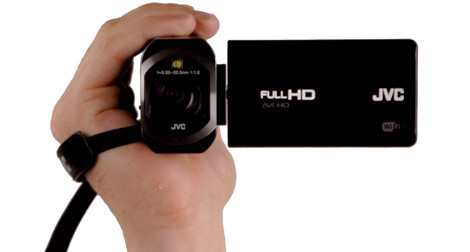 There aren't too many actual buttons on the body of the camcorder, and, frankly, we wish there were a few more. Why are we saying this? It's because the touchscreen interface on the LCD is lousy. Buttons are unresponsive, often requiring multiple presses before the camcorder registered the fact that we were trying to make a selection. And when the touchscreen system does work, it's still awfully slow to respond (calibrating the LCD didn't help for either of these issues). This problematic interface makes using the menus a pain, and makes setting controls blatantly annoying.
Like other JVC models, the GZ-VX700 is slow—slow to turn on, slow to adjust controls, and slow to switch between modes. Things are even slower when you try to change options or controls during video recording. If you're someone who is used to lightning-fast technology, you may end up throwing the VX700 out the window after a few days.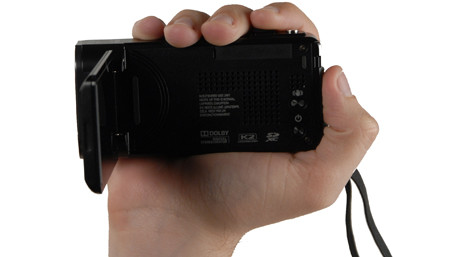 Portability
The VX700 weighs around 228g with its provided battery pack and 203g without the battery installed. This is light, even for a mid-range camcorder, and it does make the VX700 easier to lug around all day. The slim design of the VX700 does make it possible to fit the model inside a large pocket (especially a coat pocket), but you'd probably be better off leaving it in a bag or purse.
Battery Life
Despite its tiny battery pack, the GZ-VX700 lasted for just under two hours in our battery life test (110 minutes). That's not too shabby for a camcorder of this size. Just for sake of comparison, the JVC GZ-GX1 went for just 78 minutes with its larger battery pack and the Canon HF R21 lasted for 83 minutes (both terrible scores). When shooting for a long periods at a time, the GZ-VX700 does break up large clips into several individual files, each around 25 minutes in length. But the camcorder doesn't lose any data while recording, the next clip picks up exactly where the previous one leaves off. More on how we test battery life.
Since the VX700 is a slender camcorder, it's battery compartment must fit in with this narrow design. In doing so, JVC resorted to using an enclosed battery compartment on the right side of the camcorder. This design has two flaws: 1) you can't use larger battery packs with the VX700 in order to get a longer recording time, and 2) the battery compartment door doesn't remain connected to the camcorder when opened. That last point is a shocker. The battery door comes right off of the camcorder when you open it, which means it is very easy to lose or break when you take it off. And working with the VX700 with its battery fully exposed won't be safe (or fun) for anyone.
LCD
The GZ-VX700 is equipped with what has become the standard size LCD for a mid-range camcorder: 3-inches diagonal with a 230k pixel resolution. You'll find these LCD specs for most camcorders in the $500 price range, while many flagship models have a bit larger screens (up to 3.5-inches) and usually have much higher resolutions (often approaching one million pixels).
So the specs for the VX700's LCD are just fine. The screen looks decent enough, it has brightness controls, and it should be large enough for most users. The problem with the screen lies in its touch interface, which is downright awful. At times, we found ourselves pressing touch buttons on the LCD four or five times before the camcorder would recognize our input. That's not just bad, that's borderline unusable.
Display Size
Display Resolution
Touch Screen
Viewfinder
Stabilization
The JVC GZ-VX700 is equipped with optical image stabilization, but the camcorder wasn't effective in stabilizing the video image in our tests. In regular use, we saw the OIS as being somewhat effective, but our shake tests were too much for the VX700 to handle, and the camcorder's image stabilization features were of no help. We saw nearly identical results with the JVC GZ-GX1, so this performance was somewhat expected. More on how we test stabilization.
Sections